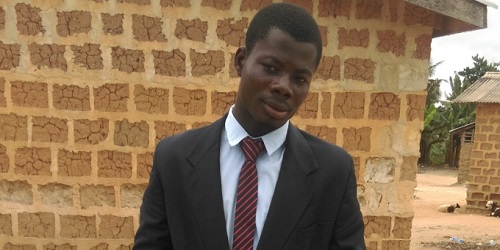 My name is Stephen Frimpong. I was born in a village called Gyamakrom in the Western Region of Ghana. When I was 4 years old, my father took me to a Boanim, a town in Kumasi in the Ashanti Region. I started schooling there from kindergarten. When I reached class four, I moved from my father's house to my grandfather's house. My grandfather was a fetish Priest. I stayed there for about five months then I returned to my father. Before I left, my grandfather gave me some mystic water to bath with for seven days. As a child, I thought it ordinary water. So I did not tell my parents. When I became 14 years, I started being stubborn. One of my friends behaved just like me so we started walking together to school. At times we would go but at other times we would not. Sometimes we would put other clothes in our bags and pretend to be going to school but after answering the roll call we would remove our school uniforms, put on the home wears and walk out of school. We would go around gambling.
In the process of gambling, I made a new friend who introduced me to a fetish Priest. I started visiting the fetish Priest at that age of 14 years. As a result of this, I became more stubborn and disrespectful to everyone including my mother. My father was not staying with us at that time. I had a little fear for my father though. So any time he pays a visit, my mother and siblings give him the report of my unacceptable behavior. On one of his visits, he stayed with us for one week and I decided to follow him to the village. I was then in Juniour High School 2 (JHS 2). I continued my studies there, in a new school, till I finished JHS 3. Because I did not take my studies seriously, I made very low grades. My father was angry with me and would have given up on my education but I pleaded with him that I would do well in the Senior Class. He changed his mind and sent me to Senior High school (SHS).
When I began SHS, my life was not different from what it had been in JHS. In addition to this, I started dreaming of strange things. I would see myself in the midst of some students, chanting. I did not do anything about it. My brother narrated a dream he had about me but I did not take it to heart. I began to think only of magic. I bought two CDs of movies that magnify magic. That is, the Legend of the Seeker and Merlin. I watched Seasons 1 and 2 of the Legend of the Seeker and Seasons 1 to 5 of Merlin in just five days! I was so captivated and thrilled with the film that I lost the little interest I had in schooling. I stopped in the second term of SHS 1. My brother called my father to inform him that I had stopped schooling. So he came in a rage, took me to the School and told the Head of the school that he should cancel my name from their files as he would no longer be responsible for my education. The way I dressed that day confirmed that I was not interested in school so they granted my father's request.
My father whisked me to the village and bought a big cutlass for me to weed the farm. I went to the farm for two weeks then I lied to him that I worked for a person when I stopped schooling and that the person owed me 80 Cedis. I asked his permission to go and collect the money and he agreed. He gave me money for transport but I ran away to another village call Akwadaakrom, far from Bogoso. I began to work as a labourer in that village. I started trying the magic I had seen in the movies. Shortly afterwards, the owner of the business had challenges and asked the workers to take a break for a month. Within that month, I went to Bogoso. I bought a magic book there. I started reading and practicing magic. One day, I placed a mirror in front of me and started performing incantations. I tried all I could but nothing happened and I slept. I continued do this when I woke up. I called my mother to appear in the mirror and surprisingly she appeared. I knew from that moment that I had the power to invoke people.
It brought me so much joy that my desire had come to pass. A voice began to direct me on what to do. I began to command things to happen. The spirit led me to a forest. I went with some items they requested. I sat under a big tree and placed these items there. The spirits appeared to me in the dream. When I woke up, I saw the spirit in the form of a dwarf (about 3 feet tall). He asked me what I wanted and I told him. He then gave me a ring to swallow. I resigned from the placed I was working and demanded my money which was 3000 Cedis but the owner of the business gave me 900 Cedis. I was so angry with him. Then I went back to Bogoso.
The spirits directed me to my mother's town, Nzima in the Western Region, to meet a fetish Priest. I became an apprentice to the Priest. He began to teach me the way to carry out magic practices. He took me to a forest, where he informed me that there were five worlds: sky, land, tree, stone (rock) and sea. We began to visit these spirit worlds because of power. He made incisions on my body and gave me leaves to chew. From that time, he told me to start attending to his customers. I came under a powerful evil influence and began to speak deep sayings like an old man. I did not understand the language of the shrines yet. So he took me to a river called Ankobra in Asenda. When we arrived, he asked in I needed everything from him and I answered in the affirmative. He plucked and threw a leaf into the water. About two minutes later, the leaf came back and he squeezed and dropped the juice from the leaf into my eyes, nostrils and ears. When we reached his house, the spirits from that river began to appear to me one after another. I realized that I could speak their languages. Sometimes, he invoked them upon me. When this happened, he told me that there was one more test.
The fetish Priest took me to another town, where he used evil powers to open three different gates for us to pass through. Soon we were in a meeting. He greeted the spirits and a voice responded. He informed them that he had brought me for the final rites, as they instructed. He demanded that they satisfied me. They replied that we should go. They told him that if I was willing, I would return by myself. So the fetish Priest allowed me to go. I returned to Bogoso to do the work of a Native Doctor. I started with 10 Cedis with which to buy anything of my choice and prepare a terrible weapon. I left Bogoso because I did not want my family know what I was doing.
Sometime later, another incident happened that further yoked me into the satanic realm. I went to work at the farm with my Uncle. While there, we received information that some strangers were on a killing spree in the community. We were asked to hurry home. I refused to leave but my Uncle insisted I left. I rushed back to the farm, without my Uncle's knowledge, to continue weeding. Suddenly, I looked up and saw a man but I did not run. He approached me and inquired whether I knew the road to the town. I obliged to lead him. A few steps into the journey, I saw another man holding cutlass in front of me. I realized they were going to attack me and I began to run. They started chasing me but I took a different route. I ran to the river bank and decided to swim because the river was deep. As I jumped into the river, I saw kasaprek and cola, objects that symbolized the gods I was serving. I knew they were present to help me. I came out of the river and continued running till I reached the rock that my fetish Master had taken me to in the past. The same voice greeted me "you are welcome". I responded. We did some things and they gave me a cloth as well as made marks on me. I wore the cloth and went home, to my Uncle.
As I returned to Ashanti Region, to a town called Asaamu, I noticed that the cloth I was given was for violence. It increased when someone provoked me till it reached its limit at which it then began to release drops of water. At that point, I would become empowered to cause damages and no metal (knife, bullet, etc) could penetrate me. I think the cloth made me to be quick tempered. One day, I told the spirits that I wanted to be rich. They agreed and mentioned I would bring a sacrifice. I thought it would be a material thing or at most an animal. Unfortunately, they said I should sacrifice my beloved mother. I objected. They asked me to have a rethink but I gave them the same reply. From that moment, I decided to not serve them again and began to burn all their property in my possession. As I lost interest in the serving the spirits, I began to have positive thoughts for myself. I joined a small scale mining firm in Bogoso. Little did I know that the devils will not give up on me without putting up a fight. I do not know whether to say they came on revenge or a recovery mission. These demons knocked me out and I woke up in a Hospital. I had to stay in the Hospital for one month before I recovered. Even at that, while I was on the sick bed, I signed a cheque for my brother to withdraw some money I deposited in a bank to pay the Hospital bills but he returned with a traumatizing report that the cheque bounced. An acquaintance paid the bill then I visited the bank to see what went wrong. To my utter dismay, they looked into their record but could not find my name. All my data was wiped out! I was so mad at them that I went home and burnt all my account documents. Alas it turned out that it was the spirits I was serving that enabled me to accumulate the huge amount of money I had in that bank and they had collected it mysteriously.
Deep in my soul, I knew needed help. I started going from one Church to another but could not find it. Once I went to stay with my parents and on reaching there they were participating in a gospel crusade. I attended and the Minister preached as if he knew me personally. Afterwards I met him, repented and received some counseling. But he soon returned to Kumasi, where he came from. My younger brother and I began to preach to some people and I returned to Bogoso to work. My conviction did not last more than two months. I went back to serve the spirits again. But God, "who will have all men to be saved and to come unto the knowledge of the truth" (1TIMOTHY 2:4) sent the Watchmen to Bogoso for the gospel crusade. I was in my house singing a song and suddenly I heard the Watchmen singing the same. I came out and danced with them playfully then I withdrew and went into my house. A brother among them took notice of me and followed me. He began to preach to me but I pretended to not understand English language. So he went away. He returned with another brother, who preached to me in the local dialect.
The Watchmen collected my contact and followed me up after the crusade. They preached to me again and another brother shared the testimony of God's intervention in his life. This was when I was touched to tell them my story. The brothers informed the National Pastor about me and he asked if I would agree to go with them after the crusade, for consolidation of the work of God in my life. I agreed and went on to wash my clothes. The clothes got dried but when I went to get then, they were wet again. I sensed the spirits did not want me to be free. I packed the clothes in nylon put it in my bag. I went with the Watchmen. That journey became the best in my life. Prayers were made for me and the works of the devils in my life were destroyed. It was revealed that these evil spirits wanted to use me to further their wickedness in a very terrible way but God, proclaimed "my counsel shall stand and I will do all my pleasure" (ISAIAH 46:10). He showed me mercy and saved me by His grace. I am determined to make everyone I can reach to know that Jesus Christ is Lord over all beings and that He saves. Praise the Lord!