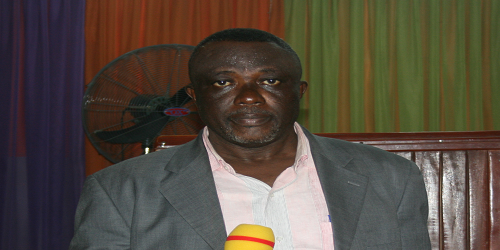 "Great is the LORD, and greatly to be praised; and His greatness is unsearchable" – Psalm 145:3
"MY name is Vincent Nwodo. I worship at the New Oko Oba Parish of the Watchman Catholic Charismatic Renewal Movement, Lagos. I want to testify to the glory of God about the healing I received from God.
I was introduced to the Watchman by a lady I met through my wife when I took ill and was looking for healing from the Lord. The sickness that brought me in contact with the Ministry has to do with my kidneys. Between 2002 and 2003, I discovered that I had a kidney failure that had affected both kidneys. It brought fear, pains and sorrow to my family. I went to the hospital and it was confirmed. My Blood Pressure (BP) had gone astronomically high and I could sense that death was lurking around.
With the help of God, family members and friends who contributed in one way or the other to raise funds for me, I was able to travel to India to seek medical attention. I visited two hospitals there where various tests were conducted on me. The results showed that one of my kidneys had diminished in size and the right kidney heavily dilated. That information caused tears to run down my cheeks. This happened in 2002 and the travelling took place in 2004. It was said that I had to manage the other one left because there was little or nothing they could do to remedy the situation. After about three months stay in India, I travelled back to Nigeria and hanged my hope on God.
I was by this time a member of an orthodox church and was not yet acquainted with the kind of fervent prayers I have experienced in the Watchman. In my quest to get healed, I got in touch with a pastor in one of the churches in Ikeja where I was prayed for. I also attended some of their programmes. I got interested and was praying for God's deliverance. In between, I was also attending the Teaching Hospital in Enugu where a doctor was managing my case. With prayers and medical attention, God sustained me though the problem weighed me down and I was like a walking corpse. The situation was such that it led to so many other things and caused me psychological trauma. It was indeed a nightmare to say the least. At some point it became extremely difficult for me to walk.
In 2011, with the help of God and friends who mobilized to raise funds for me, I was able to travel to India again because I could sense that death was knocking at the door. There, I was admitted into one of the hospitals where series of tests were conducted after which the doctor suggested that I should go to BLK in New Delhi where a senior physician subjected me to further tests. At the end, he concluded that I should prepare for kidney transplant. Meanwhile, members of the church I was attending in Ikeja were praying for me and when I returned to Nigeria, it was obvious that the end was near because I could hardly move around. I kept managing it until sometime in 2015 when I was introduced to the Watchman. When I met with the pastor, I narrated everything to him. It was a Watchman sister who introduced me to the Church and assured me of the availability of God's power to heal me. The pastor encouraged me to be attending Church services on fellowship days while he would engage the Prayer Warriors to be praying for me.
To the glory of God I began to notice a tremendous change as I began to gain strength as the days went by. The pastor was later to inform me that in a revelation God had told him that He would change my kidneys. He kept reminding me of the revelation and that I should have faith in God. I noticed also that my BP was gradually coming down. However, as a human being, I was of the opinion that I might not survive it and my family members were always in tears because of my situation. To compound it all, my business had nose-dived and my finances had crashed to near zero. Sometime in June, I was rushed to a private hospital where I was informed that I had a heart failure and kidney enlargement. I spent close to a month there undergoing some treatments.
Meanwhile, prayers and fasting were declared on my behalf in the Church and my case became one that engaged every member of the Church. While that was going on, I was rushed to the hospital the second time. Because of the severity of the case, I was referred to the Lagos State University Teaching Hospital in Ikeja on October 15, 2016. No sooner I was administered with an injection than I passed out and the doctors battled so hard to revive me and placed me on oxygen. My wife called the pastor to inform him that I had passed on but he assured her that I would come around. And just as he said, I was revived after some hours. Having been revived they began series of tests and it was discovered that I had a serious urinary problem in addition to heart failure. The doctors wondered how I was able to stay alive in the midst of all the life-threatening diseases that had eaten me up. I owe my survival to the saving grace of God and the unceasing prayers of the pastor and the entire members of the Church. It goes to show that God is still in the business of performing miracles. This testimony is to the glory of God. My face at some point became very dark as a result of the heart problem but thank God that today, I am okay. I thank the pastor and the entire members of the Church who stood by me and supported me in prayers and supplication to God. I am very grateful and I appreciate your concern for me. I believe that God is taking me to lofty heights. Praise the Lord".