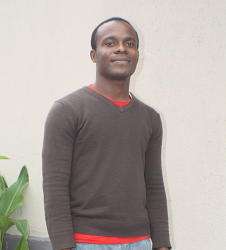 "The LORD will keep you free from every disease. He will not inflict on you the horrible diseases you knew in Egypt, but he will inflict them on all who hate you" — Deuteronomy 7:15
He was born with a hole in his chest. And so, as a child, he was very sickly. He lacked the strength to do the things his mates could do. According to his mother, they had lived in perpetual fear for his life as he grew up. But as he became reasonable, gave his life to Christ and dedicated his life to God's service, God closed up the hole and he became strong and healthy. After his mother had testified in fellowship recently, Charismatic Signs reached out to Chukwuma Michael Obinna from Ijesha Parish of the Watchman Catholic Charismatic Renewal Movement, Surulere, Lagos (who also is a student of Yaba College of Technology, Lagos), to tell us more about this spectacular miracle.
"I want to thank God Almighty for the miracle He has done in my life. My mother always told me that when I was a little kid, I was seriously sick and they tried all they could to treat me so I could be healthy and normal but all to no avail. It was just God that kept me alive. They never knew I had a hole in the chest. This made me not to do what I should be able to do as a normal child. I would cry all through the night because of this. That's what she told me. But the miracle started when I gave my life to Christ at one of the Youth Week programmes in Lagos after hearing a message there titled, 'He Has Won My Heart From Me.' After I gave my life to Christ, I decided to serve God in the Video Department of the Watchman.
In times past, I would not dare bath with cold water; I could not sleep on a bare floor. But my colleagues in the video department would always tell me to believe God that He would do something. Last year, I met a man who I worked for before I gained admission into my present school and told him about my issues. He took me to see a doctor who examined me and told me that the reason I had been experiencing pains was because I had a hole (crack) in my chest and that it was even expanding. I left his clinic that day crying to God that I wanted Him to surprise me this year. I told God that before May the second of this year, which is my birthday, I wanted a gift from Him. On March 16, 2017 I started experiencing pains on my chest again and I couldn't do anything again. Even when the video team called to inform me of a programme, I would tell them I would not be able to go with them. I never knew that God was answering my prayers.
On March 20 when the pain stopped, I went back to the man that took me to the doctor and together we went to see him. He examined me again and exclaimed that what he was seeing was unbelievable! How could this be? The hole (crack), he said, was no longer there. He explained that when I started experiencing that pain, it was probably when the bones were forming back and that there was no more crack in my chest. I want to tell my people out there that God is still doing miracles and has the power to attend to our weakness and to also heal our diseases. Praise the Lord".
*Michael's Mother Testifies…
"My name is Rosemary Chukwuma from Ijesha Parish of the Watchman in Lagos. My testimony is about the healing of my son who was born with a hole in the heart. When I gave birth to him in 1995, he had a hole in his heart. Initially, I did not know what the problem was but all I remember was that almost every day he was being taken to the hospital. No day passed without him falling sick. We were frequent visitors to the hospital. When he was close to six months, he became so sick that one found it difficult to hold him. He was so skinny. When we took him to hospital one day, the doctor said that we should go for a scan. The scan later showed that he had a hole in his heart. They said I should take him to India and I said to myself, where would I get the money to pay for his medical expenses in India? Now, even if I had the money to pay his medical bills, where was the money for the flight to India? I told the doctor that I have a Doctor of doctors. That is Doctor Jesus. I said that the Lord will heal my child. So as he reached school age, we enrolled him into a private school. I made the owner of the school to know that sometimes when he played, he would just collapse.
So when I joined the Watchman during the programme, Metamorphosis, in 2004, I began to sit at the nursing mothers' section during fellowship. By then I did not know anybody, but I said to God: let this place be my final bus stop for this boy. So after he was prayed for, we continued coming and when he reached JSS 3, he said, 'Mummy, I want to join Video Crew.' Meanwhile, he had been warned not to carry any heavy object. So, his intention to join the Watchman Video Crew made me afraid. But I eventually allowed him when I saw how determined he was.
As he joined them, I said to God: Father, this boy is working for you, so please, take care of him. He would always follow them to travel to Awo-Omamma each time there was a programme there. There was a time they were at Awo Omamma and the sickness came upon him again and his friends called me to say that he had collapsed. When I called their leader, Pastor James, he said to me, 'Madam, this pikin no be your pikin, na God's pikin and him dey for God house, don't be afraid, nothing will happen to him).
Brethren why I am here to testify today is because what the doctors could not do, God has done it. They said that before he turned 15 years, that he will die. But today my son has clocked 22 years. And God has healed that hole in his heart without collecting a kobo! Praise the Lord"!