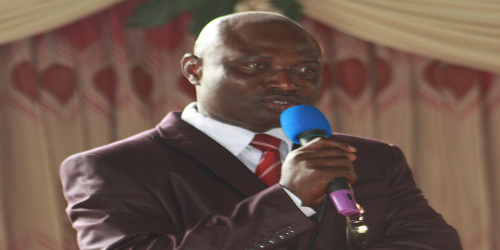 "Many are the afflictions of the righteous: but the LORD delivereth him out of them all" –– Psalm 34:19
"PRAISE the Lord! Brethren my name is Anthony Ekong from the Abeokuta Parish of the Watchman Catholic Charismatic Renewal Movement, Ogun State. Sometime in 2005, I prayed to God that I wanted to have a building of my own. But I told the Lord that before building mine, I would like to erect a Church to the glory of His name. It was a covenant I made with God which I wrote on a piece of paper and placed it in my Bible. Not long after, I got the persuasion that I could now go ahead and build a sanctuary for Him. I travelled to my village to commence the building of the house of the Lord. My plan was for the house of God and mine own house to be going up at the same time. When one of my relatives noticed that I was prepared to actualize my dream, she started making trouble on sighting some pastors I had invited to come and pray on the land. When I was contacted, I told her to stop worrying herself because I wasn't building on the family land; the place I was building on belonged to me. By God's grace we were able to complete the project and it was dedicated thereafter to the glory of God.
In 2007, our Daddy (the General Superintendent) came to Benin when we had a combined fellowship. After the service, I went to him and confided in him that some people in my village were after my life. He said to me, Go, nobody can kill you! Then he prayed for me, assuring me that my life was safe. From Benin, I was posted to Ibadan and I worshipped at the Central Fellowship there. It happened that the GS also came to Ibadan for the South-West programme of the International Gospel Ministers' Conference (IGMC). I had the opportunity of meeting him again and complained about the same issue. Again, he assured me that my life was not in anybody's hands but in God's, so I should relax.
Sometime in 2007, my wife was travelling on the Lagos-Ibadan Expressway and she called to inform me that her vehicle had broken down on the way so I took off from Ibadan in order to go and arrest the situation. Midway, I called her line and she told me that she was already at Ojota in Lagos, so I made a U-turn from that point and began to return to Ibadan. After I had travelled some distance from there, I saw a group of young men in mobile police uniforms holding AK-47 riffles. I was in the vehicle with a corporal who had accompanied me and we were in uniform as well. Meanwhile, they had barricaded the road and I began to lecture them on how they were supposed to go about their assignment. They saluted me and said, thank you sir. One of them blew a whistle thereafter and what we heard were gunshots targeted at us. I managed to come out from the vehicle and they shot at me. Brethren as they were shooting God shielded me and the bullets could not hit me. When I got back to Ibadan and shared the testimony in the church, our pastor commented that God had given me a (spiritual) bullet proof vest. After my service in Oyo State, I was transferred to Warri and from there I was posted to Abuja.
On October 1 2010, I was assigned to the venue where the country's independence anniversary was being celebrated. While there, I saw a vehicle (without a tag) approaching and I ordered the driver not to go beyond the point he was and that he should drive back. He started an argument but I insisted that he should drive back and it was not until I ordered my subordinates to cock their guns that he realized the import of the order. He drove a short distance away from us; came out from the vehicle, walked away and the next thing we heard was an explosion from his vehicle. The impact was such that it lifted me up and landed me on the ground. Several other persons sustained various degrees of injuries while some others died. There was commotion and people were running helter-skelter. When I got up, I began to direct that people should not go near the explosion area that there might be another one in waiting. But I did not know that I was standing very close to what would be the next explosion. About some minutes after the first one, another one went off, lifted me up and I crash-landed. I was covered with human flesh and bodies of those who were hit by the explosion. I was buried there as it were and was unconscious. After a while, however, I regained consciousness and noticed that I was in between dead bodies and I managed to stand on my feet. It was a pathetic scene to behold and I was stained with blood from the dead and the injured.
I went to a corner and praised the God of the Watchman for doing it again. Thereafter, I called my wife who was away in Imo State. I told her what happened and she told me that she had a premonition that something tragic might happen. During one of our fellowship days, I shared the testimony before our brethren in Abuja.
I had cause to travel home not too long after. One of the days I noticed an owl hovering over my compound which later came to perch close to me and I was able to grab it with my bare hands. I tied it up with a rope and having done that, I went to our pastor and told him what had happened. He said to me, 'Bro Tony, celebrate your victory!' He declared that God had given me victory over my enemies. He said further that if I had killed the bird the blood of someone would have been required at my hand but that I should put my ears on the ground for breaking news. In conclusion, he said someone so close to me would die if the owl died.
My promotion was delayed because of the manipulations of the wicked people but by the grace of God I prevailed over them and was enlisted for a promotional course. The news of a close relative's death got to me while I was on that course. I instructed that his remains be taken to the mortuary that I would come to bury him. When I eventually travelled home along with one of our pastors in Warri and as I opened the door, I saw the owl at the very spot I had tied it. It was dead. I called the attention of the pastor to it because I had shared the testimony to the brethren at the Warri fellowship centre when I was there. He said that was the manifestation of the power of God. After the burial, I returned to my base. I have made one of our choruses which goes thus, "Able God, able God, able God…" my favourite song. I sing it every now and again to glorify the name of the Lord. Brethren, I want to say that where we have found ourselves (Watchman) is a place where God is dwelling and considering all these experiences that I had passed through, what the Bible says in Isaiah 45:5 is true to the letter. If I had gone to seek for power from the hand of the devil, he definitely would have demanded something that would cause me sorrow, because he would not give anything without demanding something in return. I urge you to depend wholly on God Almighty who is able to do all things; thank you and God bless you.
Praise the Lord".