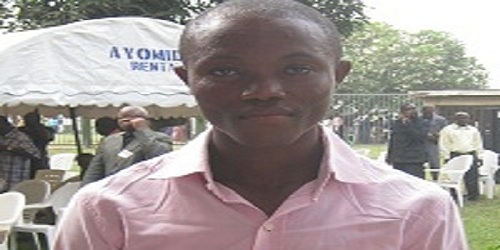 "No weapon that is formed against thee shall prosper; and every tongue that shall rise against thee in judgment thou shalt condemn. This is the heritage of the servants of the Lord, and their righteousness is of me, saith the Lord".  Isaiah 54:17
The testimony of Franklyn Chidube Offiri shared recently in Lagos serves to reassure all true believers in Christ Jesus that God is daily watching over them to protect and deliver them from all forms of danger.  Franklyn had boarded a commercial bus in Lagos, but unknown to him, he had fallen into the hands of ritual killers. But as he continued to pray to God and trust in Him for his deliverance inside that enclave of murder and wickedness where he was held captive awaiting his turn to be slaughtered, he was miraculously saved. And he escaped unhurt. Read his testimony:  
"BRETHREN, I worship at the Igando Parish of the Watchman Catholic Charismatic Renewal Movement, Lagos. I want to thank God and glorify His name for delivering me from the hands of some wicked people whose intention was to terminate my life.
It happened that one day, at about 9.30 am, two of my colleagues and I were assigned by our boss to go and supply some goods to one of our customers. While we were returning to the office after supplying the goods, the company's vehicle which conveyed us developed some mechanical fault and all efforts to put it in order proved abortive. We managed to park it by the side of the road leading to Ajegunle Secondary School along Apapa Expressway and decided to board a commercial bus to our destination.
After we had covered some distance in the commercial bus, the driver suddenly stopped the vehicle. When we asked him why he stopped, he simply ignored us, came down, and went behind the vehicle. While we were wondering what was going on and some of the passengers were reacting angrily at his action, some stern-faced and fierce-looking men emerged from nowhere, wielding some dangerous weapons. It was then that we realized that we had fallen victim to some wicked people. We were ordered to remove the SIM cards from our handsets and bow down our heads. The driver then re-entered the vehicle together with those men, and drove off. It was indeed a harrowing experience as we journeyed on, not knowing what was in store for us. At a certain point, the driver stopped and we were ordered to disembark with our eyes closed. They threatened to shoot at anyone who tried to open his or her eyes.
They led us through a bush path and we followed quietly like a flock of sheep being led to the slaughter. Eventually, we arrived at some place and saw some other victims that were also held hostage inside a room. They flashed a touch-light so as to see clearly because by this time, it was already dark. The following morning, they came and gave us bread and water for breakfast, and not long after, they came and took away one of those people we had met there the previous night and that was the last time we saw him.
The situation was such that only God could rescue one from their grip, so I resorted to praying and reminding God of what He had said concerning the Watchmen through His servant, the General Overseer, that our death was not necessary, and that we were called to be Wonders. The next morning, being Sunday, they served us again with bread and water after which they took another person away. I intensified my prayers and argued my case that I am a 'Sacred Cow' who belonged to the Lord and therefore, untouchable. My faith was rekindled and, somehow, I was convinced that God would deliver me. Every minute counted because of the uncertainty of the moment and the fear of what might befall us. There was so much apprehension anytime they came close to the door or when we noticed any movement because they did not leave us in doubt that they had no sympathy for any person.
The next morning, they came as usual, but this time, they did not take any person away. What surprised me was that the door was no longer padlocked when they left and I called the attention of others to it. And it was left like that till nightfall and that was one opportunity we were waiting for. Having peeped to make sure there was nobody in sight, we carefully opened the door and quickly but cautiously escaped from the place and by the time we came out from the bush, we found ourselves at Isashi, near Okokomaiko.
Meanwhile, my parents were worried and had gone to report to the police that I was missing. My employers were equally apprehensive and were searching everywhere to see if they could locate us. My sister, Esther Oluode, who had already testified about this incident during the December Programme, at Trade Fair Complex, played a leading role by calling some of our pastors to inform them of my disappearance and requesting prayers to facilitate my recovery. God indeed answered those prayers and brought me out of a clearly hopeless situation. I thank God for my deliverance and I remain ever grateful to Him. Praise the Lord!"