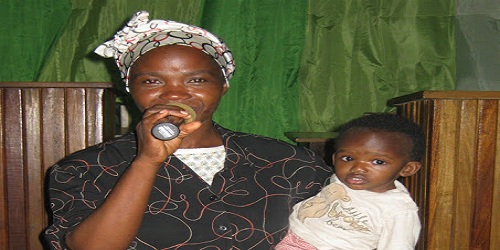 "Shall I bring to the birth, and not cause to bring forth? saith the Lord: shall I cause to bring forth, and shut the womb? saith thy God" Isaiah 66:9.
I am here today to glorify the name of the Almighty God for His goodness and mercy towards me. The Lord made it possible for me to have a normal delivery instead of the caesarean section the doctor had prescribed for me.
My name is Comfort Felix and I worship at the Bariga Parish of the Watchman Catholic Charismatic Renewal Movement, Lagos.
It happened that after I had had two babies by caesarean section, I was told by the doctor, after series of tests, that if I took in again, it would be impossible for me to have normal delivery.
This, of course, grieved my heart and caused me a lot of sorrow and sleepless nights, especially, when I considered the risks involved and the huge amount of money we would have to spend.
So, my husband and I went into prayers and rejected the caesarean option. Four years after the arrival of our second child, we resolved to have our third baby, which we hoped would be our last.
As God would have it, I took in soon after and we continued praying to God ceaselessly for His intervention, to counter what medical results had said concerning my delivery.
I registered at a hospital for my ante-natal care and when my Expected Delivery Date (EDD) was only a month away, the doctor told me I would have the baby through C/S. That statement did not go down well with me and I told him so.
At the end of the day, he concluded that if I was not ready for that option, then I would have to look for another hospital. I left, hoping to register at another hospital, but when I was interviewed at another hospital, they told me that it was rather too late to register me in other words, I should return to the first hospital that had been attending to me.
My pastor who was aware of my case called me out during one of the fellowship days to pray for me, but unfortunately, I wasn't in the fellowship that day. But, the information got to me and I decided to see him on the next fellowship day.
While praying for me that afternoon, I heard him suddenly say:  'No cause for alarm!' He said it repeatedly. At last, he said to me: 'Sister, God says: No cause for alarm.' I went home happily that day and told my husband what the pastor had said and we believed God.
On the day of delivery, we contacted the pastor on phone and he prayed for me again. He also told me that the Lord said I should not fear that He was in control. I held on to that in my heart and made it a point of prayer as I was being led into the labour ward.
Well, the testimony is that my baby came out safely that day, and I felt fulfilled that I had also experienced what it takes to be delivered of a baby the normal, natural way.
Indeed, God set aside what medical science had pronounced and made what was thought impossible possible. Please, join me to glorify this God of Watchman.  Praise the Lord!"