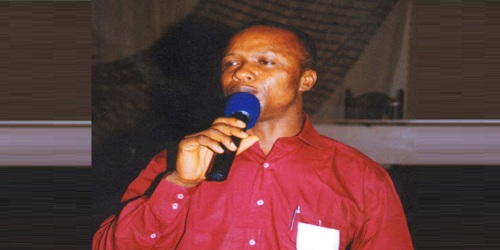 "The thief cometh not, but for to steal, and to kill, and to destroy: I am come that they might have life, and that they might have it more abundantly" – John 10:10.
PRAISE the Lord! My name is Chukwudi Onwugaje from the Watchman Catholic Charismatic Renewal Movement Mission in Sierra Leone but presently in Lagos. I want to testify how God did not allow my sun to go down while it was yet day despite the gunshot released on me by an armed robber.
Sometime ago, we had a Workers' Meeting at the Watchman Fellowship Centre, Aguda (Lagos). On that day, the Servant of God, the General Overseer of the Watchman, spoke to us and blessed us. In the course of his prayers that day, he called me out and recounted what he said God had told him through one of our diocesan pastors.
According to him, God had told the diocesan pastor to tell him that just as the sun cannot go down in the afternoon, so his (GS's) sun would not set until he had finished the work committed to his hands by God. He then turned to me and declared that he was transferring that same divine declaration to me.
I didn't really understand what this meant at that time. Frankly speaking, it was not until some weeks ago when that statement flashed back to my mind that I understood why I am still alive till now.
Not too long ago, we had a Diocesan Leaders' meeting in Lagos and when the meeting ended, I got into my vehicle and was heading home. I came to a point where there was a traffic hold-up. A thought came to me that I should park my vehicle somewhere and go to have fellowship in a parish I was overseeing before my reassignment to another location. However, I was eager to get to my own parish before the end of the day's fellowship and so didn't really give a thought to what my mind was telling me; so I continued with the journey.
But again, the same thought came up asking me to park the car somewhere and get into somebody's house, stay there for sometime and leave later in the evening to return to my house. But I kept wondering how I would just park my car somewhere and go to be discussing with somebody while fellowship was in session in my parish.
It made no sense to me so I rejected the thought and kept moving until I got to a point where there was serious traffic hold-up, and suddenly, a young man walked up to me, pointed a gun at me and asked me to surrender whatever I had on me to him. Before I could say anything, he pulled the trigger and shot me.
He had aimed at between my neck and chest but how the bullet hit my hand only still remains a mystery to me. The bullet shattered my hand and as if that was not enough, he hit me on the face with the butt of the gun ostensibly to blind me. He hit me here and there and when he was convinced that I had been sufficiently weakened, he collected all that I had on me and left.
While bleeding and writhing in pain from the bullet wound, another robber came to me where I was and made the same demands as the one that had just shot me; I told him that his colleague had already shot me and collected everything. Some minutes later, the third robber came and I told him the same thing.
Soon, the fourth one came – and all these were happening at very short intervals. It was at that point that I sensed that I must leave the place immediately and fast. As I tried to open the door of the car, I found out that my hand was badly shattered. I managed to come out any way and left the place.
My testimony is that the God of Watchman is alive. As I came down from the vehicle, behold a hospital was very close in front of me and so I ran into it. The miracle is that as I got there, nobody asked me my name, where I was coming from or any Police Report, which is what they usually demanded from people in such conditions.
I was bleeding profusely and so they quickly rushed me into the theatre and began to work on me, without asking for anything. They worked until they were able to control the bleeding, otherwise, I would have bled to death.
I became very thirsty and so I asked the person who was beside me to get me some water to drink. I wasn't aware that it was dangerous for persons with gunshot wounds to drink water. However, the person delayed in bringing the water and by the time he did, the police had arrived. When they noticed that I was about to drink water, they stopped me, warning that it was dangerous, that if I did, I would die.
God is so gracious! If God had not somehow delayed the person from bringing the water, I probably would have been a dead person by now.
I went for x-ray the next day and it showed that my hand was badly shattered and one could see the bullets lodged in it, and so, because of the damage, I had to go to the Teaching Hospital for proper treatment. It was discovered that there was loss of some pieces of bone probably during the initial treatment and though I had a POP on, the wounds would not heal.
The extent of the damage was such that arrangements were being made with one of our pastors in the USA to fly me there   for proper treatment. There were also plans to go to China. Later, we went to the Military Hospital, Lagos. These were all geared towards recovering the situation because the wound was not healing. Prayers were being offered here and there and I believed God for His intervention.
One day, a brother called me and said that he saw me in a dream moderating for the servant of God at the December Retreat 2008 at our International Conference Centre (ICC), (Ibadan-Lagos Expressway). By this time, the person he saw was still carrying a POP on his hand. I wondered how this thing would be, but I kept quiet.
During that period too, the servant of God had introduced the Empowerment Programme but because of the accident, I wasn't attending regularly. However, I managed to attend one of the days and I wanted to see him after the meeting but I sensed that he was exhausted so I shelved the idea. But as God would have it, he sent for me to see him and after discussing with him, he asked me what I wanted.
I said: 'Sir, I wouldn't want to be at the December Retreat with this POP.' He asked me if that was all I wanted and I said, 'Yes sir, pray for me.' And the man of God prayed for me. And after that prayer, the fractured bones that had refused to rejoin all the while rejoined. And like a joke that suddenly became a reality, I came to the December Retreat, and when one of our senior pastors saw me and asked me to moderate the meeting, I knew it was the fulfillment of prophecy.
Though I was advised to be hanging my hand by my neck, I took the stage and moderated throughout the programme with my hand free. So I want to testify that what the Lord of hosts said concerning me, that my sun will not go down while it was yet day, has come to fulfillment. I am alive and well today.
Praise the Lord!"