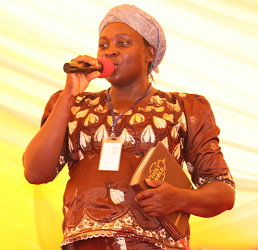 "But he was wounded for our transgressions, he was bruised for our iniquities: the chastisement of our peace was upon him; and with his stripes we are healed" – Isaiah 53:5
Mrs. Kate Chukwu, a Watchman from Abakaliki Diocese, could not contain her joy during the recent session of the annual Watchman Leadership Congress when she came out to testify how God had healed her son, John, of asthma, a disease known to be incurable. It was a traumatic experience for the boy and his family while the disease lasted, but now, after God intervened and knocked it out, joy and relief enveloped the family, and the boy has since then continued to enjoy a flourishing health. Mrs. Chukwu's testimony provoked immense joy and excitement when it was shared:
"I AM here to testify to the glory of God what He has done in my family through the declaration of the man of God (General Superintendent) in our midst. In January 2011, we had gathered at the Rock Chapel just as we have gathered here today and towards the closing session of the conference, the man of God said that he was led to bless some water and give some people whose lives were just at the mercy of God because of the terminal diseases in their lives. Indeed, I take any word that proceeds from his mouth very seriously; I see it as God Himself speaking through him. So I said to myself that God has remembered me. I have a son who was just about two years in 2002. Later on, it was discovered that he was asthmatic and because of this ailment, I rarely went out of the house without making adequate arrangements for his well-being. Sometimes, I would take him to be with my sister who was familiar with the management of his ailment in case he ran into crisis while I was away.
It wasn't easy whenever there was crisis. His breathing would really scare me whenever he was rushed to the hospital because it would be like he would breathe his last any moment. So on that particular day during our January 2011 Conference, the man of God prayed over some bottles of Eva water and distributed them to the diocesan pastors. I approached my diocesan pastor and told him that I needed one and he obliged me. I told myself that the battle in my home was over. When I got home I gave some of it to my son and also to a family whose son had hormonal problem. That was between 14 and 18 of January of that year.
Later, I had a dream in which I was returning from somewhere and when I got to our yard I saw that there was commotion and people were running helter-skelter. I asked them what had happened and I was told that John (my son) had had another attack. Usually, my son would go to school most of the time with an inhaler while I also kept one for him in the house so that whenever he had an attack, there would be an inhaler to relieve him before rushing him to the hospital. I asked if he had been given the inhaler and they said they could not locate it. By this time he could no longer talk and so was not able to tell them where to fetch the inhaler from. I remembered that I had one in one of my drawers so I went in to get it but behold, the thing was no longer there; it was nowhere to be found though I was sure of where I had kept it. While that was going on in that dream, he gave up. When that happened, I carried him and was confused and frustrated, not knowing what else to do. While I was grieving over his death, strength suddenly came upon me and I shouted "Praise the God of Aloysius Chukwuemeka Ohanebo, and immediately I did that, he sneezed and came back to life. I woke up only to discover that it was a dream though the scene had appeared so real.
After this, I began to thank God saying that since the doctors had not been able to cure him for over ten years he had been with that ailment, that I strongly believed that as God had now stepped in, that he would be healed. I also argued that if indeed God had healed him, that I wanted the healing to be total. Brethren, from January 18, 2011 till now, John has not used an inhaler neither has he been taken to the hospital again to be treated of asthma. In fact, the attack has ceased completely and he has been living a normal life since then. I used to stop him from attending some of the youth programmes that were held at night because of his condition. Last year, he insisted that he was going to attend some of their programmes. When I expressed fears about what might happen, he reminded me that I had told him that God had healed him and so I obliged him. Though it was in August, at the peak of the rains, last year, he participated in all the meetings and never had a breakdown. For over a week, he also participated in the youth drama programmes held before the Mount Horeb. Since that period till now, there has not been any panic situation that would call for an inhaler anymore let alone going to the hospital. Our God has healed him. Praise the Lord"!