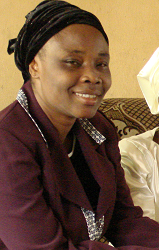 By Felicia Ihenacho
"Pure religion and undefiled before God and the Father is this, To visit the fatherless and widows in their affliction, and to keep himself unspotted from the world." – James 1:27
ALTHOUGH most people are aware that widowhood is a very painful experience, it is only the Lord that fully appreciates how exactly it feels to be a widow. God regards widows specially. He cherishes and rewards any acts of kindness rendered to put smiles on their faces. Psalm 68:5 (NKJ) tells us that God is the "Father of the fatherless, a defender of widows…" God expects the widows in the Church to know and believe that He is always there for them, and that His ears are always open and ready to hear their prayers.
But many widows sometimes look away from God to put their trusts in human beings forgetting the exhortation in Psalm 146:3 "Put not your trust in princes, nor in the son of man, in whom there is no help." And that is why many of them often meet with disappointments, discouragements and frustrations. But God is still there for them. As many as would turn to Him again, to trust and pray to Him, He will show them that He has never forgotten them, and that He knows how best to relieve them of their burdens.
It is true that God always seeks to use His children to care for the widows. And He would not like us to fail Him in this regard. One Thursday morning, in June 2012, I woke up with a problem that had bothered me for quite sometime. After thinking of how to solve the problem, I decided to share it with a sister at one of our morning meetings which was coming up that day. But while at the church and still ruminating on the matter, the Spirit of the Lord spoke to me, and I quote, "You are bothered about this problem, but are you bothered about the problems of the widows in your midst?". He spoke twice. I tried to wave it aside, but He told me that my own problem would not be solved except I do something about the plight of widows. He quoted two scriptures to me, namely: James 1:27, "Pure religion and undefiled before God and the Father is this, to visit the fatherless and widows in their affliction, and to keep himself unspotted from the world".
And then Luke 13:1-5, "There were present at that season some that told him of the Galileans, whose blood Pilate had mingled with their sacrifices. And Jesus answering said unto them "SUPPOSE YE THAT THESE GALILEANS WERE SINNERS ABOVE ALL THE GALILEANS, BECAUSE THEY SUFFERED SUCH THINGS? I tell you nay; but except ye repent, ye shall likewise perish. OR THOSE EIGHTEEN UPON WHOM THE TOWER IN SILOAM FELL, AND SLEW THEM, THINK YE THAT THEY WERE SINNERS ABOVE ALL MEN THAT DWELT IN JERUSALEM? I tell you nay; but except ye repent, ye shall all likewise perish".
After the meeting that morning, I met with the sister I had in mind to discuss with, but instead of talking about my own problem, I told her what the Spirit of God was telling me. That was when she told me that she had equally received a similar ministration, and wanted to share it with me, so that something could be done. And because of this confirmation, I knew that God was not just talking to me alone but the entire Church. I had to discuss the matter with my pastor (Pastor Mike Ihenacho) who shortly before then had set up a Widows' Foundation in his location to look after the welfare of the widows, but there had not been proper response from brethren as at then.
This ministration may have come as a result of some widows pouring out their hearts to God to relieve them of their burdens. Of course, after discussing it with the pastor, the brethren needed to hear what God was saying, and so I was given the opportunity to share the ministration with the whole Church. And because God is involved, the positive response of the brethren has since then brought a great and remarkable change in the lives of the widows in our midst. Now, I want to testify that after this step was taken, that problem I had was immediately solved by God, praise be to God!
The question for you now, dear reader is: how do you treat the widows in your midst? Are you concerned about their plight? Do you think that it should not concern you, and that they should be left to carry their burden all alone? Remember the scripture quoted earlier: "Pure religion and undefiled before God and the Father is this, To visit the fatherless and widows in their affliction, and to keep himself unspotted from the world" James 1:27
I want to say that as many as would decide today to devote some part of their income to see to the welfare of the widows and the orphans in our midst, the almighty God, the father of the widows and the fatherless will NOT leave them without a testimony! So, resolve to put a smile on the face of a widow today. You can resolve (and discuss with your pastor) to pay the school fees of a widow's child. You can resolve to occasionally contribute to ensure they do not remain hungry. You can pay the house rent of a widow and fatherless instead of watching them thrown out of their homes into the streets by heartless landlords while you sit unconcerned in the comfort of your own home. You can help a widow start a business to stop her dependence on others. This is one effective way to obtain the key to God's treasure house. Don't be left out.
Mrs. Ihenacho is of the WCCRM, Lagos.