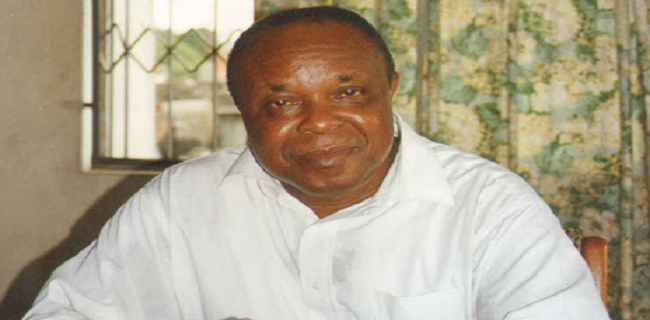 IN MARCH (2003), the Diocesan Pastor of Port Harcourt, Pastor Joseph Chike, fielded questions from Charismatic Signs at his Aba Road office in Port Harcourt. In this our first  published interview with a Diocesan Pastor, Pastor Chike spoke with candour and wit  on the early stages of the Movement, its vision, their first encounter with the Watchman General Overseer in the early 1980s, and much more…Excerpts:
Could you please recall how you came in contact with the General Overseer of the Watchman Catholic Charismatic Renewal Movement, and, by extension, the Movement?
I think it was in early 1981.  By then I was in the Charismatic Renewal Movement atSt. Paul's Catholic Church, Ebute-Metta, Lagos. Before I came in contact with him, I had developed this hunger and desire to know God; hunger for the pure Word of God. The Charismatic Renewal in those days was just a smokescreen and because of the knowledge we had begun to acquire about the Bible, we had become tired of what was being taught there.
So there was a day, at the St. Paul's Catholic Church compound, I stood somewhere and prayed unto God asking Him to send us a teacher, a teacher of the Word.  Because whatsoever we were being taught in the Catholic Church, we had become tired of them and it made no impact on our lives. Indeed, there was this desire, a vacuum created, that needed to be filled with the Word of God.  So I made that prayer, just a simple prayer, a straightforward one. Right now, I still can recall the very spot where I stood and made that prayer. Well, little did I know that God answered that prayer? He then sent His servant from Enugu. At Enugu, the Lord had told him to return to Lagos, and specifically to Ebute-Metta.  So, the day he came to the Charismatic Renewal meeting, I was the person moderating that day.  It was our manner to welcome newcomers warmly and to introduce them to other members.  So at the end of the meeting of that day, we welcomed him as our custom is; but we didn't know the stuff he was made of.
As a new comer then?
Yes, as a new comer!  (Laughter) He was very quiet and humble.  Then at the end of the meeting, I went to him. I asked him where he came from, in what part of Lagos he was living. Then he told me that he was living at Amuwo-Odofin. And I said, No! That place is very far from here. I then advised him to join the Charismatic Renewal at Amuwo-Odofin. But he said no, that it was at Ebutte-Metta that he wished to fellowship. At that time we didn't know the mission he had. So he continued to fellowship with us and remained very humble and quiet. And at that initial stage, he didn't discuss anything with anybody.
In those days, every evening we would be at St. Paul's Ebute-Metta, because we were very zealous.  Also, after his day's work at G. Cappa at Oyingbo, he would also come to St. Paul's. We didn't know what he had in mind.  So he continued to interact with us, and to observe us. So, one day, at fellowship, I asked him to help us say the closing prayers. The prayer he made that day was very unusual to us (as Roman Catholics).  We were so touched that those of us who had a burning desire for the pure Word of God, knew immediately that he had a different spirit.  That was how he won all of us over.  We immediately followed him and we became friends, interacting with him. But he was still observing us. Then one day, he asked me to visit him.  I took some of the brethren and we went to where he was living, at Amuwo-Odofin.  He began to tell us about the vision, but at that time we knew next to nothing about vision. Later, I invited him to join the Core Group, and he joined us. One day, we asked him to prepare a topic to teach us during fellowship.  So he prepared a topic and delivered it at the meeting that day.  It was a pure salvation message, which we had never heard before!  It was quite different from what we were used to.  That was how many people were born again. So after that, I said to him:  You will be teaching us from now because you have something higher than what we have, and that thing you have is what we need.
So, when we started giving him teachings on regular basis, opposition came from the Core Group members. They said his teachings were not Catholic teachings. But we continued following him. One day, Fr. Cooney, the parish priest, called me and advised me to beware of Aloysius [Ohanebo]. They trusted me, because at that time, I was the Catechist, and I was very vibrant and zealous for the Catholic Church. But he continued to teach us nevertheless. And even though we had opposition from among the Core Group members, we still desired to have him teach us every time.  We decided to establish a forum that would not be headed by a Core Group member. And we called it: Movement For Total Repentance, and we usually met after every Sunday evening mass. Also, we called it Come And See. So, we obtained permission to use the Social Centre of the parish. And there, as we gathered continually, he continued to teach us and taught us through to salvation.  Many of us were born again and our eyes were opened.
So, he became our darling; and we followed him; we didn't know him from Adam, but we followed him because of the qualities we saw in him. That's how he continued to teach us and guide us. And when there was uproar in the Church as a result of our meetings and his teachings, they banned us from using the Social Centre for our evening meetings. Then, fortunately for us, two weeks before we were banned, I had got a flat at   No. 5, Ojo-Oniyun Street,Ebute Metta; so, we moved straight to that my flat, with about 15 people or so.  That was in May 1983.  He started teaching us everything, exposing all the deep truths of God. So, that is how we came in contact with him and by extension embraced the vision.
At the initial stage when the vision was shared, were there some fears? Because when you look at what the vision entailed, I mean, confronting such a  large institution … seeking to get it revived, and all that?
There were no fears per se, but we were at a loss as to how this small group of people can execute the vision. But we believed him. That was one thing that was going for us. We believed our teacher and the teachings from the Scriptures. Yes, we believed him. We never doubted him. Though there was still that slight fear. When we looked at the whole ecclesiastical order, we sometimes wondered how this small group of people could really execute the vision. But he kept on imparting the vision into us, until our eyes were opened to the living truth.
Okay, let's look at the foundation; certainly there must have been some special qualities in the people that were there at the beginning … in short how was it in the beginning?
In those early days, we had things in common.  Every person bought the vision. Our eyes were set on a single target; we didn't look at any other thing.  Some of us were business people. But the vision became our rising thought and our sleeping thought. We were ready to forego anything in order to achieve the vision. Indeed, the entire membership at that time had one single purpose. There was nothing like inordinate ambition.  We flocked together as brethren. There was total trust, no suspicion whatsoever.  So, whatever virtues we had in those days, that made us what we were, they were the qualities we imbibed from our leader.  He was humble, selfless, honest, and sincere to the core and had a desire to make heaven himself.  He tried so much to inculcate these qualities in us. He told us about the danger of failing to perform, that if people perished because nobody warned them, that God will require their blood at our hands.
So nobody felt that whatsoever he owned belonged to him; we were just like the believers in the early Church.  We were so given to the vision. Indeed, our knowledge that the person we were following was a very honest person, sincere, humble and righteous helped beef up our confidence.  Our pastor used to tell us in those days that we should not be dismayed because our persecutors are  people who do not pray, but we pray;  they don't have the truth, but we have the truth; they are not living right, but we live right.  Indeed, God would always be on the side of the righteous.
What is your counsel now to younger Watchmen?
My counsel is that they should continue to follow our footsteps, eschewing every inordinate ambition, keeping their minds focused on heaven and endeavouring to see that souls are saved.  We were not aspiring for leadership, and there was no love of money at all.  Let their eyes be single, following the vision.  They are even in a better position now, because in those days, we were still very few and the servant of God has not reached this height he has reached now. But he was able to carry us along at that time and we submitted to him, let alone now that God has elevated him to this height. In those days when we looked at the multitude of the unsaved, we were moved with compassion. Our popular Scripture at that time was Isaiah. 62:1: "For Zion's sake will I not hold my peace, for Jerusalem's sake will I not rest, until the righteousness thereof go forth as brightness, and the salvation thereof as a lamp that burneth". So my advice is that first and foremost, they must ensure that they make heaven, and secondly, endeavour to take   multitudes to heaven through this our work and vision.
What do you think is the world's most pressing need now?
The world's most pressing need is very, very clear and plain, that is the salvation of the billions of souls.  The world is made up of about seven billion people and the entire world lieth in darkness. You see and hear of wars and rumours of wars, man's inhumanity to other human beings, wide-spread murders. Immorality has become a culture all over the world and these are great sins that will take people to hell.  So what the world needs now is not the United Nation or any of the Unions, African or European, or NATO for peace. No, what the people of the world urgently need now is to accept Jesus as their Lord and Saviour and then have the peace of God that passeth every understanding.  So the greatest need the world has presently is for people to be saved; they should give their lives to Jesus Christ.
How is the Watchman responding to this need?
I thank God that the Watchman Catholic Charismatic Renewal Movement is responding to this need of the world; hence God gave us the Three-fold End-time Project, which will ultimately result in the salvation and revival of the entire world. God has given us to host the annual International Gospel Ministers Conference of the Hour (IGMC), as a forum where our pastor explains God's programme for salvaging the world in this end-time. I can say that this three-fold end-time project which God has committed into the hands of the Watchman is our response to the need of the world right now.
Thank you, Sir. Now, tell us about Port Harcourt.
We thank God for what He is doing in Port Harcourt. He has made us a lot of promises which we are pursuing with every vigour, faith and patience. He has promised us revival, unprecedented revival! That is what we pray for everyday; there is no day that will pass without us mentioning this promise of an unprecedented revival of souls in our prayers. It is gathering momentum also because God has equally promised us a lot of financial blessings with which to execute the job. God has said that Port Harcourt diocese is going to be the Joseph of the Watchman and we believe the Word that God has spoken through His servant.
—————————
March 2003