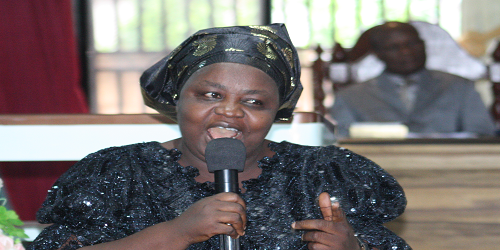 While visiting the Orlu Diocese of the Watchman Catholic Charismatic Renewal Movement in July 2013 to confirm a very startling testimony that had just occurred there, Charismatic Signs also took out time to interview Mrs. Francisca Mpumechi, the Diocesan Woman Coordinator and wife of the Orlu Diocesan Pastor on the special outreach programme she has been organizing for the widows in the area, which has been turning in some really heart-warming testimonies. Excerpts:
PLEASE Tell Us How This Programme For The Widows Started.
It was about 10 years ago. I was reading the scriptures and in Chapter 9 of the Acts of Apostles, I saw the account of Dorcas, an exceptional Christian lady, who became sick and died but was restored back to life by God following Peter's prayers. The testimony of her generosity was shared there. Several widows who had benefited from her kindness had gathered at the house where her body was laid weeping. When Peter arrived to pray for her, the sorrowful widows began to show him the garments Dorcas had made for them. Indeed, she had committed herself to the service of putting smiles on the faces of the widows in her area.
So, as I read that portion, I heard a voice that said: I have made you the Dorcas of this generation! When this voice sounded, I thought that somebody spoke at my back. But there was no one there with me. It was later that it dawned on me that it was God who was speaking to me. What He was asking me to do was clear to me, but my worry was: how do I go about it, how do I start? So, one day, I called the women and pastors' wives to a meeting and told them that the Lord was making me know that we need to give special attention to the widows. I specifically told them that apart from preaching to them and giving them words of encouragement, we also need to show them some love and care. So I started by gathering the women at the diocesan level. The first time we met was in 2003, and about 400 widows attended. We met in Orlu here at the Diocesan Fellowship Centre. Then during the next meeting about 500 of them came. As we continued holding the meetings, the number kept increasing. So, at a point, I discovered that the cost of bringing them to the central church was becoming rather too much. I decided to split the programme into zones. So I was going from zone to zone. We would make contributions, put a lot of things together and distribute to them when they gathered in their various zones. We always made sure that any of them that attended the meeting went home with something.
After we had done this for sometime, I said to myself, we are dealing with the people that are within, that is, in the church, what of the widows that are outside the church? Many of these widows have not surrendered their lives to Christ, and there is the need to minister to them. One day, as we sang a particular hymn, "Must I Go And Empty Handed…," I suddenly began to cry. Then I said: God, how do I start? And I heard the voice of the Spirit of God say to me: Go to the communities, gather the widows together and preach the Word of God to them. When I said that my ideal congregation was one in which not less than 95% were believers, He answered that I should go where He had told me to go, because that was where I would achieve my aim. After this encounter, we began to go from community to community. One of the communities that we first went to was Asa in Obilerem in Orsu LGA, in Imo State. What I heard from the Spirit of God was that we should go to the traditional ruler of that community (the Eze) and ask him to gather all the widows in his community that we want to preach the Word of God to them. I did exactly as I was instructed and the traditional ruler granted our request. On that day, about 120 people were gathered. We went with some of our zonal women coordinators and had with us almost 100 wrappers, 3 bags of rice and some cartons of soap. We distributed these items to them. We ensured that everyone that came to that gathering went home with one thing or the other.
Later, I heard from one of our pastors that for so many years, they had attempted to establish a Watchman fellowship there but had not been able. They had met with a very stiff resistance. Even other churches that tried to establish had a similar experience. But God gave us an open door through this ministry to the widows. At the end of the meeting, we were invited to the palace of the traditional ruler (the Eze). When we got there, the cabinet members were present. The Eze then asked his Personal Assistant (PA) to address us on his behalf. The P.A. said that since the history of their community, they had not witnessed such a gathering. He was particularly happy that the meeting took place under a very peaceful atmosphere.
My message that day was entitled, "If God Be The Husband Of The Widow…" Then I asked them, if actually God is the husband of the widow, where is His honour? Do you honour Him? If the women are bound to respect and honour their husbands, if God has now become your husband, do you honour Him? That was how I started the message. So all the people in the gathering heard the Word of God. And when I asked them to indicate if they wanted to surrender their lives to Christ, I was surprised at their response. I mean, it was a different thing altogether. I was really happy. We have now established a Watchman fellowship there, and by the grace of God, it is there today.
How Many Communities Have You Visited So Far?
Now, we have gone to Asa. We have also gone to Amaruru. We have equally gone to Ihitte-Akata community which is made up of 19 villages. Now in the next two weeks we would be going to the Ancient Uburu (formerly Uburu-Ihejiofor); and after that, we would be at Obibi and Okpoko. We have already concluded the arrangements for that. So the thing is already yielding fruits. When some of the pastors come here for meetings, they tell me that people are responding and coming to the fellowships we have established. So that is my joy, and I continue to tell God that I am alive for this purpose. And before Christ comes, I would want to go to all the communities in Orlu Diocese so that every widow in Orlu Diocese would hear the Word of God.
How Would You Assess The Impact Of These Outreaches In All The Communities You Have Visited?
Indeed, the impact has been quite great. Many of them are surrendering their lives to Christ. O my God! At some of the places we went to, when you look at the condition of the people, you will really know that the need for the gospel work that we are doing is there. My joy is that when we go to these places, the traditional rulers would be there to also hear this message of salvation. Indeed, this has provided us a very good opportunity, and we are glad that these traditional rulers have been welcoming us with our message. In all the places, the Eze would be present, with his cabinet members, and even his family members, to listen to the message that we have brought. So, I am grateful to God for this privilege and open door.
How Do You Sponsor These Outreaches And Gather The Things You Distribute To The Widows?
At the beginning, we would announce in the church that we were about to hold the programme, and would give the women the opportunity to support it with whatever they have, like, clothes, food items or just anything anybody is led to give to support the work. But now that we are going from community to community, it has become like a crusade, and no longer an in-door church programme. Some of the brethren are becoming interested and are eager to be part of what we are doing. Some would call to tell me that we should not forget to inform them any time we are embarking on an outreach because they are interested in what we are doing and would like to support us. So, this is how we have been going. I have told them that anything that comes into my hand, at the end of the month, I would channel it to this widows' programme. This is how we are able to acquire the wrappers and all the items we go with. In fact, right now, we are ready for the next outreach.
I Learnt That You Also Hold Special Programmes For Women Looking For The Fruit Of The Womb And The Spinsters, Tell Me About It.
Well, it was in 2001, before the National Leaders' Meeting in Lagos. During one of our Bible Study fellowships, a mad woman came to the church with a child and the ushers came and called me to come and see her. When I got there, I greeted her but she didn't respond. I said, Madam, how is your child? Again, she refused to answer me. I said okay, and left her alone. When the Bible Study teaching ended, I heard a voice in my heart telling me to go and check on that woman again. When I went to where she was, she was sleeping and her baby was sucking her breast. I looked at the face of this woman and the face of her child. Immediately, something moved inside me and I began to shout in the fellowship. Prayers were going on. Soon I began to cry. I cried and cried and went into prayers.
On Sunday, I called the women. I asked them to go and bring all their sisters that had been married for many years but had not got any children. I told them that we would go to God in prayers; we would start on Thursday and continue till Sunday. I told them that when we arrive, we would start crying. No prayers, nothing else. We would just cry from Thursday till Sunday. After that, we would "share the grace" and go. I told them that there was no way God would not hear our cry. Even if He was busy with something, as it were, He must be moved to come and listen to the cries of His children. My heart was really charged and eager to have the programme. After the programme, the testimonies began to roll in. Some of the women had twins. It was really wonderful. After that, I began to organise the programme from time to time. Sometimes, we would do it once in two years or after one year. That was how we started that one.
There is also the programme I started holding for mature, unmarried women. It happened one day that as I was reading the account of the marriage of Jacob in the Bible, I saw where his father-in-law declared that it was against the tradition of their land to give out the younger in marriage before the elder. I now used it to present my argument before God. I said to God, why are many younger women getting married while those older than them remain unmarried? Jacob's in-laws deemed it fit to put in place this tradition that disallowed this in their own land, so why are we witnessing this among us? I then said that these spinsters must begin to get married. So, I began to have programmes with them and God started doing wonders. Last year (2012), I gathered them with the women that were looking for the fruit of the womb and we had a programme, titled, "Calvary Settled It All." And it was wonderful. Now, this other picture I gave to you was one of the fruits of those programmes. There are many of them like that. It is a yearly programme and God has been confirming it with testimonies. The one we are planning for next month (August 2013) is solely for women who are looking up to God to bless them with babies. I am expecting to hear many more testimonies from it. From time to time, those who have been blessed through these programmes are always coming here to share their testimonies with me. So I am really happy.
Are The Programmes Usually Held At the Diocesan Level?
Yes. Sometimes, we put up announcements on the radio, like the one we had two months ago. We called it "The Great Surpriser" and it was for the spinsters. It was announced on the radio and people came from different places, even from other churches and communities outside Orlu Diocese. And the one we are going to hold this time around, we are also planning to advertise it on the radio to enable many people hear about it.
Some Of These People That Come, Are They Unbelievers?
Yes; at a time I was somewhat dismayed that the people I initially had in mind in organising the programmes (that is, the believers) were not responding as I had expected, while people outside the church were coming. But, if you see what has been happening, you would marvel. The one we had two months ago, for instance, quite a number of unbelievers attended, and my joy is that God has used the programme to reach them. As they come and experience the power of God, several of them yield their lives to Christ and join the Movement. That is my joy.
Now, Given The Heart-Warming Results That Have Emerged From These Programmes, What Is Your Message To Other Christian Woman Leaders?
My message or advice to them is to live up to the obligations imposed on them by the positions they occupy. Like we are often told, it does not help to sit on the seat of Moses but refuse to do the work of Moses. As you lead the people, look at their needs. A childless woman would always come to the fellowship weeping and sorrowful. The moment you see her face, it should tell you the state of her heart; her tears and pain must touch your heart as a woman leader. This is one of the things that motivated some of these programmes we are having. So, we should go into the work and help these hurting women out of their conditions. We do not have to wait until a crusade is organized and we are invited to come and preach. We must create "pulpits" and use them effectively. Sometime ago, the man of God, our General Superintendent, said that women should create "pulpits" for themselves. We were in a meeting at the Logos International Secondary School, Awo-Omamma, when he made that statement and I caught it. He urged women to arrange programmes. So, it is time to rise and think and be creative. Every woman leader should think of what to do to bring other women to Christ. Many women are languishing out there, and we have an obligation both to the women in the church and those outside the church to bring them to Christ. So that is my heart's desire for every woman leader. Indeed, widowhood comes with a lot of problems in this part of the world. But a lot is achieved when the widows are won for Christ and they begin to serve God.
Thank You, Ma, For Talking With Us.
Thank you for coming. God bless you.