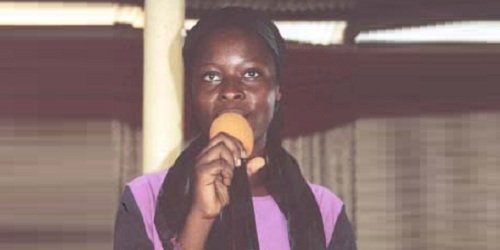 "I shall not die, but live, and declare the works of the Lord" – Psalm 118:17
It was getting late, and Ngozi Egbuaba, from the Ojo Road Parish of the Watchman Catholic Charismatic Renewal Movement, Lagos, was becoming worried that her niece,Vivian Ojukwu, who had left home that afternoon to see her elder sister was yet to return.
Although, she had tried to reassure herself with the thought that her niece may have decided to stay at their sister's place for the night, she was nevertheless very worried. Then about 10.00pm, her phone rang, and it was her niece. The driver of the bus they had boarded that afternoon, she said, had diverted to another road and had taken them to a strange place, far inside the bush. In fact, as she was talking then, she was in the midst of ritual killers! Before Ngozi could ask her further questions, the phone went dead. All the calls she made to that number refused to go through.
Seriously alarmed, she began to pray. She also began to contact several Watchman pastors on phone who continued to assure her that her niece would return unharmed, that the God of Watchman would protect her. As she continued to make further contacts, prayers equally continued to go up to heaven on the girl's behalf. This was the situation until the next day. Then, much later in the afternoon, the girl returned, with horrible tales of what transpired in that enclave of murder and wickedness and startling testimonies of how God delivered her from the jaws of death. 
At a special combined fellowship at the Watchman Fellowship Centre, Aguda, Surulere,Vivian Ojukwu told the jubilant crowd of Watchmen and their visitors, amidst cheers and loud clapping, the chilling story of her ordeal with the ritualists, and how God proved Himself mighty and gave her a resounding victory and deliverance. Her testimony:
I am here today to testify of the deliverance of the Lord upon my life. It happened that on Thursday, last week, I boarded an Oshodi-bound bus at Ijesha Bus Stop. Along the way, there was a hold up and the driver diverted to an unfamiliar road. When we kept requesting to know where he was taking us to, he replied that the road was a short cut, which would help us beat the traffic jam and get to Oshodi without delay.
That answer satisfied everybody and we kept quiet. But after sometime, it dawned on us that the route he was plying could bring us to some danger, so we started shouting and asking him to tell us where exactly he was taking us to. Like their manner usually is, he rudely shouted that we should shut up, that we would soon get to Oshodi.
Meanwhile, there were some others in the bus who were trying to calm us down, assuring us that we would soon get to Oshodi. We never knew those people were the driver's partners in crime. By this time, we had spent about two hours on that road. Suddenly, we found ourselves in a bush. It took close to forty-five minutes drive further into the bush before the reality of their intention dawned on us — we had become victims of ritualists.
There in the bush, we arrived at a gate manned by eight hefty men, who opened the gate and the driver moved in. We passed two other gates into a large compound. Its walls were so high that anyone outside it would never be able to know what was going on inside there.
When the driver eventually pulled up, they shouted on us to get down. By now, the reality of what faced us had dawned on all of us, and we started shouting, lamenting and bemoaning our fate. After about thirty minutes later, a man came out and warned us to keep quiet, and reconcile ourselves to the fact that the end of our lives had come. Immediately he said this, I shouted: I shall not die! Then, the man turned and said that he heard somebody say something, seeking to know who the person was. We all kept quiet.
They collected all our belongings. But there was a boy who stood near me, who had a mobile phone. And they didn't see it. I requested to use his phone, and with it, I called my aunty (Ngozi Egbuaba) and told her the situation we were in. By this time, it was about 10.00pm. But when those men heard my voice and sensed that I was making a call, they rushed at me and collected the phone.
At about midnight, they commenced their rituals. First, they brought water mixed with some concoctions in an amber bottle, whose contents the light there could not discover. They began to pour it in a calabash and to serve to everyone, making sure everyone drank it. Refusal to drink attracted severe beating. When it was my turn, I refused to drink. From what I could decipher, they were under an instruction not to let a drop of that liquid spill on the ground. But I engaged the man in an argument, refusing to drink the concoction.
Soon, he became angry, and slapped me, and I shouted "Jesus!" Immediately, he shouted back at me, ordering me never to mention that name there again. As he tried again to force me to drink the liquid, I kept resisting him. He slapped me again. But when I still refused to drink the liquid, in the process of slapping me once more, his hand accidentally hit the calabash he was carrying, forcing its content to spill on the ground. He became so angry and began to say all sorts of things against me.
Meanwhile, I was praying and singing, and when I sensed that my prayers were making him uncomfortable, I intensified it. He went in and reported to their boss what had happened, and from what I heard them say, their boss told him to leave me for awhile, that my case would be treated specially. After they had made the rest of the people (we were thirty five in number) to drink the liquid, they all fell asleep.
Later, they woke all of them up, and moved every person to a shallow pit where they had also set up some fire, which continued to burn. They asked us to be dancing around the pit, and anyone that refused was beaten severely. As we danced around the fire, they started calling us one at a time, with the numbers they had assigned to us. My number was 27. They would call each person, make him or her to drink another liquid, which I later discovered was blood, and then slaughter the person, by hacking off his or her head.
As I danced around the fire with the others, I kept quoting all the portions of the Scriptures I knew, and when my number was called, I moved towards the man. Then they gave me the liquid to wash my hands with, but I refused, telling them I would never wash my hands with blood. Then, the man said, okay, since I did not wish to wash my hand with it, I should then drink it, but I still refused. He became angry again, and started shouting at me. I started singing and praying again, and he shouted me down, saying I should stop disturbing them.
Then he left me and went inside the building to call their boss. Their boss was a very huge, tall and heavily bearded man. In fact, I don't even know how to describe him. He was holding a bone dripping with fresh blood. He looked at me and said:
"Young girl, are you the one that has refused to obey my instructions?"
What instructions, I replied?
"I was told you had refused to wash your hand!"
But how can I wash my hands with blood? I asked him.
He shouted at me to shut up, and I shouted the name of JESUS, and behold, he staggered and nearly fell.
When he recovered, he sternly warned me not to mention that again. And as he wanted to hit me with the bone he was holding, I shouted JESUS again, and he staggered once more, and began to recite some incantations. He kept saying something like Amanta! Amanta, whom I serve!
Meanwhile, I continued calling the name of JESUS and praying that the fire of the Holy Ghost would descend and that confusion should hit the camp. His boys, who were watching the contest going on between the two of us, were dumbfounded. Now, when the young man whose phone I had used earlier noticed what was happening, he also mustered courage, followed my example, and refused to drink the blood. His number was 28, after me. In spite of the severe beating they gave him, he refused to drink it.
They also left him alone to serve the others. Any person that drank the blood would immediately bow down and move to the shrine, where they would cut off his head. That was how they killed thirty-three people. But the man and I continued our argument and challenge. Occasionally, he would go back into his chamber, perhaps, to re-equip himself with devilish powers, and would reappear to resume his incantations, while I continued to pray. This continued for a very long time, in fact, till 9.00am the next day.
It was only then that he conceded defeat. He turned angrily to his men and asked them where they picked this kind of girl from. He told them that he had warned them several times to stop bringing him these kind of people. He then ordered them to take us away from his presence, that young man and myself.
When he asked them to take us away, the men appeared apprehensive and reluctant. The different drivers continued to argue among themselves who should be the one to carry us away. Eventually, one of them later agreed to carry us. He opened the vehicle and pushed me inside.
The handset they had earlier seized from me, which they thought was mine, they threw it at me, together with my bag, which contained my Bible. After a long distance, they opened the door and just pushed us out, and zoomed off. As we looked around us, there was no sign of any person anywhere. The only noise we heard was the noise of birds. As I lay helplessly there, a woman came and passed by. But after walking some distance, she came back to ask me what I was doing there.
I told her my experience, and that I didn't even know where I was or the road to take. She then gave me five hundred naira, and pointed to me a direction which I followed, and finally found myself at Aiyetoro, where we have a fellowship centre. I asked some people how I would get to Ajegunle, and with their directions, I was able to enter the right buses to find my way home.
That was how God delivered me from death at the hand of ritualists.
Praise the Lord!"