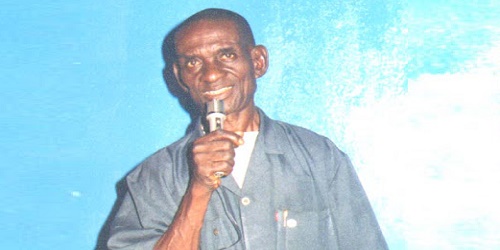 IN June 1999, a sister in the Watchman Catholic Charismatic Renewal Movement (WCCRM), Atta, Orlu Diocese, was called home. The brethren there began preparations to give the sister a befitting burial. On June 19, 1999, the day of the burial, the WCCRM Diocesan Pastor of Orlu, Pastor Dennis Mpumechi, came down to preach at the occasion.
The message was on the need for one to discover and embrace one's Saviour before it was too late. He also hammered on the evils of occultism, its inferior status, and the final judgment that will come to the unrepented sinner.
Unknown to him, a man was being dealt with by the message, and the man's soul was in turmoil. After the message, the man, dressed in white from head to toe, asked to see the pastor. That man was Michael Azike, the head of Omemma religious cult. He sounded so desperate and afraid; he wanted badly to escape God's fiery judgment.
Pastor Dennis and the man went to the man's house. There, he surrendered wholly to God after getting the assurance that Jesus was able to save and protect him. And on a set day, Mr. Azike testified about his odyssey with evil spirits, and how it has been with him. The testimony is lengthy, but thought-provoking.
"My name is Michael Azike from Atta in Njaba LGA, ImoState. I was born in the family of Eze Azike of Atta on September 30, 1930. I went through four stages in my life. From 1942 to 1946, I went through various traditional processes and rites and took the ozo, owu and other idolatrous titles.
I was also into the practice of palm-reading and in the ogbanje cult. But I later left ogbanjecult because of the rites involved in it.
"After my secondary school education, I was asked what I wanted to do and I replied that I wanted to practice traditional medicine. I was therefore sent to one man from Umuoke Atta who took me and trained me in the art of traditional medicine. We went to a lot of places for traditional rituals which were carried out with all kinds of animals.
In 1947, terrible things happened to me which made me unable to sleep at night. I used to see different kinds of spirits and visions. In that same 1947, twelve different spirits were visiting me. I know all their names.
When I told my master about them, he forced me to release their names to him. If those spirits visited me and wanted to go, they would tell me they were going but I would still be seeing them even when they had left and gone some other place. Some would step on my belly, some on my eye, while some others on my leg and some on other parts of my body. They would then enter into me and stay there.
This made me afraid and I asked my master what to do about it. He asked me to go and find a specie of millipede known as ugiri in Igbo language which I later found at Ekeinyimi Atta. I also brought a wine from a young palm tree. My master now took me at 12 midnight with a machete and we got to the boundary between our village and his. He told me to call the names of all those twelve spirits. After I had called them, he used the machete to cut the millipede into two. From that point, I did not see those spirits again.
"In that same year, 1947, another spirit came to me one day when I came back from school. I was in standard five at St Paul's, Amiri. I had just finished eating and gone inside to have some rest. After sometime, a spirit, a very tall one, came in and pressed one of his fingers on my chest. I asked him who he was.
Soon, I could no longer talk, shout or run. I was paralyzed in my legs and hands. My mouth was sealed. But inside me I asked him, who are you? He lied to me and claimed to be the maker of heaven and earth. I asked him what he had come to do. He said he came to talk to me. Then I kept quiet.
He said that I should go and erect a hut at the boundary of Nkwo Atta where my father had a piece of land. He said that after erecting the hut, I should take a bucket or basin of water and place it there, and that I also should be wearing only white garments from then on.
All my relations including my children, in-laws, etc should also be wearing white garments. I asked him what would happen if I refused to wear them. He said that if I failed to obey that I would serve my younger ones. Indeed, I served my younger ones. I served one in Orlu and served another in Onitsha. All these were my younger ones. The spirit asked me what my problem was. I told him that my problem was that I heard that the earth would be destroyed with fire, and that I wanted to know where one would seek refuge to avoid being burnt by the fire.
He asked me to do all he said. That incident then remained in my heart. I began to look for a white garment church to join. From that 1947 I started thinking about this white garment issue. Then in 1961 I left the Roman Catholic Church and entered the CMS in Onitsha. I was in CMS for three months and the same spirit came and told me to leave the CMS because it was the same as the Roman Catholic Church.
I became offended and for that reason stayed for about five months without attending any church. Then one night I dreamt and saw myself in a place I thought was heaven. It was full of people in white garments. I ran out of my room to see the people, but a voice from the midst of the crowd said: 'Go back, you sinful man, you were sent to come and do some work in the world but you said you were looking for money; will you be able to get the money?'
Then I knelt down and said: 'My master, show me the way for I do not know where to go again'. From up there they sent two people wearing white clothes that came and took me to a river where they handed me over to a lady who was taking her bath. They told her to show me the church I would be attending. I followed her and we walked on the sea that appeared like River Niger. When we got to Fegge in Onitsha, she pointed at a house, and asked me to enter. After I had gone into the house, she went back to the water. I was there until prayer-time. The bell rang and we started clapping our hands. After all these I woke up and realized that I had been dreaming.
"But after two months I started having difficulties in my life to the extent that all I had was just four pence, which was soon spent. When I got to my shed I started thinking about the situation. One young girl in whose office I used to go and post my pools coupon came and I asked her to help me find a place where I would be prayed for. She was offended and reminded me that she had often invited me to the CMS for prayers but I had said that reverend fathers and bishops were praying for me, so, I should go to them for prayers.
I pleaded with her, so she agreed and gave me an address in the Old Market area which turned out to be his brother's store. Her brother was a pastor of a white garment church. I went there and narrated all my problems to him. He gave me a note and directed me to somebody who would attend to me. With the paper I was going along
Sokoto Road, only to discover that it was exactly the same road through which the lady from the water had led me in my dream. I kept on going until I got toNo. 3 Nzegwu Street, Fegge, Onitsha, where the white garment church was.
I entered there and the 12 noon prayers and clapping of hands started. Tears were coming out from my eyes and I was asking myself why on earth should I find myself in this kind of church? At the end of the service, I took the note I came with and gave it to the 'prophet' there. In fact, I did not know he was a man so I said: 'Madam, this is a paper I was asked to give to you'. He collected the paper and started laughing. He prayed for me and said that God said that I would work for Him. I told him: 'If I would work for God, I have no money as you are seeing me now.
If you pray for me and I get money, I can now then sew the white garment you want me to sew'. After his prayers I left for my shed. I worked and got one pound fifteen shillings. I used part of the money to sew white clothes and started going to the church.
"After I had attended the church for about two months, robbers came to my shop and destroyed a lot of things. I also had a bicycle accident which gave me a serious wound. I went and told the 'prophet' and he prayed for me. I was with the church for six months in Onitsha before I left for my home town, Atta.
"From 1947 to 1961 when I left for Onitsha, I had a lot of interactions with different spirits and spiritualists. That was when I started buying all sorts of books. I used the 6th and 7th books of Moses for 22 years. I was interacting with the big-time occultists from India. I was importing, using and selling talismans, occultic mirrors and rings.
"When I came back to Atta in 1964, I was determined to continue with this white garment church. I started a branch of it at a corner where my mother used to pack her yam tubers, coco yams and other crops. I was praying there one day and I got soaked by the rain. Then my mother asked me: 'This your prayer, can't it be done inside the house? So, she gave me one room and took the other. I opened the room and started using it. Then one of my brothers received some charms from one native doctor from Umutanze. He fainted and died.
Then, I went and carried the dead child into the prayer house. I continued praying until the child was revived. My mother and the relations of that my brother started attending the prayer house and were asking others to join because it saved people. I continued there until I had 50 converts. I then opened a branch of it at Atta in 1966.
"What made me to have double mind about this prayer house was that on the opening day I had sewn my gown as the founder of the prayer house and written the welcome address. But as it turned out, my sister, named Akulo, whom I was healing died in my hands at about 5.00am on the opening day. I did not attend the opening ceremony again. I gave the founder's garment to another man. I opened other branches in Awo-Ommama, Mgbidi, Ubulu-Ihejiofor and Otulu. I opened all these branches before I entered the Omemma cult.
"On June 1, 1972, I left to live in Omuma at the instruction of the same spirit guiding me. I stayed for two months there and the day I was returning, a man called Nwobodo Omemma gave me his daughter called Esther Nwobodo Omemma as wife and she became my second wife. We continued going for prayers at Omuma from Atta.
"We were doing that until my father in-law died. But before he died, he had transferred all the Omemma cult powers to me. He told me many things which I did not know at that time which were deceitful. He asked me my name and I told him that my name is Onu-na-ekwuru Nwobodo Kanalo Ka-na-ama (the spokesman for the community at home and abroad) in the Omemmacult.
At that time I was at his place, and one Sunday, he asked me to go to Atta and look for what is called okpoto. He said that nobody both white and black will take my words if the okpoto has two branches. But if it had only one, everyone, both white and black will listen and take what I would say, and that I would be ruling. From there I discovered that he was an anti-Christ.
"When I returned to Atta, my wife and I, his daughter, continued going for prayers at Omuma. We continued until 18th February 1973, when we took his son and sat him on a white throne. The boy was always sitting there. But the boy died on January 1, 1976. Then on January 6, 1976, I started sitting on that highly built white throne. I served the Omemma cult for 27 years. The headquarters of the cult was at Omuma where it was founded.
"I opened the Atta branch of the cult on February 12, 1990. I also transferred the headquarters from Omuma to Atta. People from all walks of life were coming to Atta for prayers. It was then I started wearing the white garment the way the spirit had directed. I became the head of the Omemma cult everywhere. Though I did various works in Omemma, my disappointment was that there was no word of God there. I introduced reading of the Bible and kneeling down for God there. Clapping and singing to God was also introduced by me. Omemma had its own hymns, songs and dance. The dance is called 'prophecy dance'.
We had asked Nwobodo where the song came from and he said that it came from heaven but now I have known that it came from the (evil) spirit world. I have the recorded tapes of all the songs and dances of Omemma.
As I am saying this, anyone who is still in Omemma cult should think.  If I, Michael Azike, the head of the cult, should come out from it, think and search your heart whether you should not come out from it also. There is no road there. When I was still in it, I contracted tuberculosis. When I investigated to know the cause, I discovered that our father, Nwobodo Omemma did not start it in a good way. He started it as a native doctor. I met a reputable native doctor concerning the tuberculosis.
He gave me directions as to the cure. I also complained to him that my prayers were not bringing riches to me; because anybody who makes prayers does not go out to do some other work. The person wakes up by 10.00am and from that time would sit on his seat and would not go anywhere.
There, he would remain and people that needed healing would be coming to him. I told him that things were not okay with me, and that I had fasted and prayed to no avail. The man laughed at me and said that if I wanted the prayers to prosper me that I should bring a cup of corn, coconut, hawk, rope, two small bells, and small clay pot, sand from a man and a woman's tomb and a lot of other things.
"All these gave me serious concern and from then on I started asking God which church I would go to in order to have life and help others to be saved, because it was clear to me that I had missed the way. All the people that joined the cult were drawn by the power of charms. I was one of them. Because of this I fell down and cried to God to show me the way of salvation.
I also realized that I had been in darkness. Then it happened that our sister, Monica Nnaji died. When she died I was one of the people who said that she won't be buried by the Watchman. I asked the Watchman people to go and leave us alone to bury our wife. But when the Watchman people insisted that they would see to the burial of the woman in all aspects, I agreed that they should carry the corpse and bury because there was nothing we would do with it. I did not know that it was at the burial that God had prepared to save me. On the day of burial, June 19, 1999, I left my home with my Bible for the burial; when I got there, I was made to sit down, by an usher, directly in front of the preacher.
When the Watchman Diocesan Pastor, Pastor Dennis Mpumechi, started preaching, my spirit was touched and I was taken to the spirit where I was being judged. The judgment continued and at a point I started crying. When I opened my eyes I saw the coffin of the dead woman still there, and many people may have thought I was crying because of the dead woman. But I was crying for myself.
Then I called a Watchman brother and asked him to tell the pastor that I wanted to see him. When the pastor came, we sat down together and I told him all about myself. I told him that he must go home with me right from there. This was surprising because many crusades had taken place in Atta and I had attended many of them and participated in their various activities but I never agreed that any of them should visit my place. But I received the Watchman in my place.
"Pastor Dennis and I entered the car and got to my place. I brought down that high white throne and kicked it with my leg and told the pastor that I have received his preaching. That same night, I carried that throne and other materials for Omemma worship and burnt them. Then when the Omemmacult members came on Thursday, I told them that I have repented and anyone who wanted to repent should follow me. Many of them got offended, rebuked me and said a lot of things.
But now, many of them are blaming themselves because they have realized that what I said was true and that we had been in darkness. I am thanking God that my children, in-laws and some members followed me and changed at the same time. I thank God that the death of Monica had made me to become a child of God. I am also telling the Watchmen that I will remain with them till the end of my life.
All members of Omemma cult should repent through this message. Anybody who dies in it should not blame me. I have freed myself from it. I have come out of it. I was the father of it but now I have left it. Thanks be to God who did not allow me and my family to die in sin. Praise the Lord".
NOTE:
Omemma is a White Garment 'church' that exists in several parts of the country, but predominantly in Eastern Nigeria. It is a cult, but many have been deluded into thinking that it is a church.